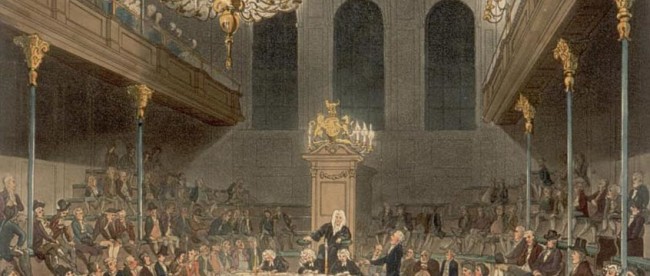 "I can't think of another place where journalists from competing papers, from regionals and nationals, from radio and TV, work so closely together every day of every year.

"Sharing offices, ideas, gossip and stories …

"This spirit of community and co-operation has been built up over the last 200 years. It's what marks out the Press Gallery as a very special place. And long may it continue."
– Rt Hon Tony Blair, speaking as Prime Minister and guest of honour at the Press Gallery's bicentenary dinner, May 2003
In May 1803, after crowds clamouring to hear Pitt speak on the Napoleonic Wars forced reporters from their usual seats in the Commons Chamber, Speaker Abbot ruled that part of the Public Gallery would be reserved in future for the Press.
Since then the Parliamentary Press Gallery had grown and now represents more than 300 newspaper, agency, radio and TV journalists who work at Westminster.
Most people will be familiar with the faces of Tom Bradby, Nick Robinson and Adam Boulton as they cover the news from Parliament on our televisions.
Indeed some people will know the names of the newspaper and radio correspondents who write and report the latest political news.
But how did this close relationship between Parliament and the media begin?
This website aims to give you some of those details, and also to introduce you to the life of Press Gallery members today.